The Process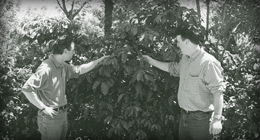 Sourcing:
The best ingredients are essential to a quality cup of coffee! Sourcing select estate grown coffees is a very important part of our day to day operations. A network of coffee farms around the world has been shaped by Stuart Vander Schauw who has been buying coffees for Kobricks since 1992. His knowledge, connections and attention to detail are integral to sourcing the fine coffees we use in every roast. This process of sourcing green coffees includes traveling to visit the farms our coffees are imported from, sample roasting and cupping daily to look for any imperfections, and roasting and tasting our selections.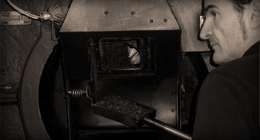 Roasting:
With an 80+ year legacy to draw from, Kobrick's Roast master,
Michael Calabrese
, craft roasts our select coffees to their peak flavor revealing the individual region or estate's distinguished character. Even coffee from the same country can be different depending on bean variety, elevation, finca, crop year, individual lot and the length of time since harvest. Roasting to emphasize the unique quality of each coffee requires a delicate hand, split-second timing, and an ability to judge when the coffee bean reaches this peak of flavor.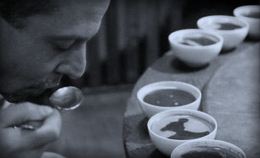 The Lab:
Here at the Kobricks Lab we use our experienced palates through cupping and tasting to create, develop, and ensure the highest quality of the single origins and blends that we offer. The same sort of duality extends to our raw beans which are selected by poring over samples from all over the globe. Each sample gets sniffed, slurped up and vetted through silver spoons every day in our cupping laboratory. The delicate
hand-picked seeds containing sugars and natural perfumes are roasted in our old-school, cast-iron Burns sample roaster.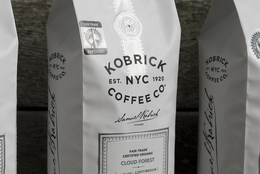 Packaging:
Kobricks whole bean coffees are vacuum sealed and nitrogen flushed, reducing the oxygen level to a maximum of only 0 to 2% to remaining, (remember that air is one of the enemies of coffee freshness).

The one-way valve allows the coffee to continue to release carbon dioxide for several days after roasting. If not released, this excess carbon dioxide can cause the seals to burst open and freshness to be lost.

All of these things make our packaging specially designed to ensure freshness until you are ready to use it.