For Business
Great specialty coffee is our passion, roasting to order single origin varietals and blends of unique character and quality. We offer exceptional coffee from the top growers of the world's renowned coffee producing regions. Fuelled by our obsession for great coffee, we offer our wholesale customers invigorated support that covers every aspect of coffee and espresso, emphasizing how it can positively impact your business. Our customers are our partners and whether you are a restaurant, coffee shop, cafe or hotel, with access to great coffee, training and support, the benefits of being a Kobricks partner are compelling.
Interested in becoming a Kobrick Coffee Partner?
We Offer: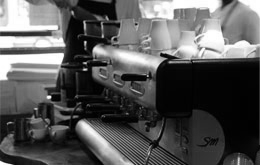 Coffee:
A discriminating variety of single origin coffees from each growing region, including Organic, Fair Trade, Rainforest Alliance certified and Direct Trade all roasted to order at our USDA Certified Organic Roasting Plant.
Direct Trade partnerships with extraordinary producers
A selection of blends, diverse and unique, served by some of the most admired chefs, restaurateurs and specialty coffee retailers in the industry.
Espressos including an exceptional Italian Espresso, Antica Tostatura Triestina, imported from our partner in Italy, and acclaimed by well known chefs and connoisseurs around the globe.)
Complete Specialty Coffee programs with a coffee menu crafted to compliment yours
Training and Support
An impressive team of coffee professionals, with expertise that covers both the science and the craft of coffee, from equipment repair to latte art
Direct access to state of the art coffee brewing and espresso equipment.
Coffee education and complete equipment training for you and your staff.
Timely and competent equipment repair and service, with a 24/7 hotline for emergencies.
Allied product lines including teas, syrups, chocolates, sugars, travel cups, smoothie & frozen coffee mixes and more.
Marketing support including custom signage, seasonal promotions & menu creation. Our team will take a holistic look at your business as if it were our own and brainstorm ideas and ways to improve customer retention.
A complete turn-key Kobrick Coffee Co. Licensed Program with custom store or modular options.
Some Of Our Partners
- Anthos
- Aquagrill
- Back Bay Restaurant Group
- Bouley
- Blue Ribbon Restaurants
- Bottega Del Vino
- Cafe D'Alsace
- Chef Driven Group
- Crumbs Bake Shops
- Gabriel's Restaurant
- Great Performances
- Jane
- Martha Stewart Cafe
- Nice Matin
- Red Cat
- Smith Restaurants
- Tribeca Grill
- The Fireman Group
- Via Quadronno